<[wp_campaign_1]>

Republican presidential hopeful Mitt Romney's campaign could face sharp questions after an independent political committee supporting him accepted a whopping $1 million from a company that vanished into thin air, campaign finance watchdogs said yesterday.
The mysterious company, W Spann LLC, was created by a lawyer at the Boston firm Ropes & Gray and then folded shortly after the donation was made, according to NBC News. That move may indicate a "sham organization" created to shield Romney's financial supporters, said Michael Beckel, spokesman for the Center for Responsive Politics, a nonpartisan group that examines campaign donation records.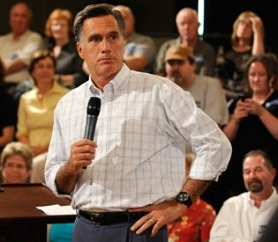 "There's serious potential for blowback (against Romney)," Beckel warned. "Former Romney aides are involved in this group — so even if they are independent, it's not like they're strangers."
Yesterday, a Romney spokeswoman said the campaign has no connection to the so-called SuperPAC, Restore Our Future, created by Charles Spies, Romney's former general counsel in 2008, his former political director Carl Forti and former spokesman Larry McCarthy.
The PAC raised $12.2 million during the first six months of 2011 and has publicly said it's backing Romney, but it is not officially connected to Romney's campaign and can receive unlimited funds from individuals and corporations because of a 2010 Supreme Court ruling that removed a ban on corporate political donations.
W Spann LLC was incorporated in Delaware in March and made a $1 million contribution to Restore Our Future on April 28, according to records filed with the Federal Election Commission. The company folded on July 12, two weeks before the PAC made its first disclosure of its donors this year.
NBC News, which first reported the donation, said a Boston lawyer, Cameron Casey of Ropes & Gray, formed the company. Casey did not return calls for comment.
Brittany Gross, spokeswoman for Restore Our Future, declined to say whether PAC officials asked for identifying information from W Spann LLC. She referred to a statement that said PAC officials followed federal election laws.
Paul Ryan, an attorney at the Campaign Legal Center, a nonpartisan watchdog group, said federal election and justice officials should determine if the donation broke campaign laws.
"Just because the general public doesn't know where money comes from doesn't mean that Mitt Romney doesn't know or that Mitt Romney's SuperPAC doesn't know," Ryan said. "These sorts of practices deprive the voting public of valuable information as to who is trying to influence a candidate with million-dollar checks."