Every new year brings us another Sundance Film Festival and with a few more days left until Sundance 2010 kicks off, Sundance has officially announced the first half of this year's complete line-up. Featured in four different competition categories are 58 individual films that will be showing at world's greatest film festival in January. The remaining half of the line-up, which will includes the premieres and midnight films, will be announced tomorrow (so check back then). The line-up looks fantastic so far this year, with a lot of films I haven't even heard of yet. Resonance FM and TIMEOUT will cover the events from top to bottom with live reports and coverage from all the events. We have a lot of special surprises for this years event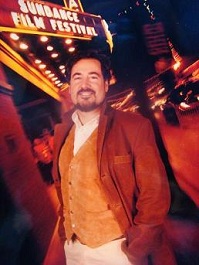 U.S. Documentary Competition:
This year's 16 films were selected from 862 submissions. Each film is a world premiere.
Bhutto (Directors: Jessica Hernandez and Johnny O'Hara; Screenwriter: Johnny O'Hara) — A riveting journey through the life and work of recently assassinated Benazir Bhutto, former Pakistani prime minister and a polarizing figure in the Muslim world.
Casino Jack & The United States of Money (Director: Alex Gibney) — A probing investigation into the lies, greed and corruption surrounding D.C. super-lobbyist Jack Abramoff and his cronies.
Family Affair (Director: Chico Colvard) — An uncompromising documentary that examines resilience, survival and the capacity to accommodate a parent's past crimes in order to satisfy the longing for family.
Freedom Riders (Director: Stanley Nelson) — The story behind a courageous band of civil rights activists called the Freedom Riders who in 1961 creatively challenged segregation in the American South.
GasLand (Director: Josh Fox) — A cross-country odyssey uncovers toxic streams, dying livestock, flammable sinks and weakening health among rural citizens on the front lines of the natural gas drilling craze.
The Dry Land (Director and Screenwriter: Ryan Piers Williams) — A U.S. soldier returning home from war struggles to reconcile his experiences abroad with the life and family he left in Texas. Cast: America Ferrera, Wilmer Valderrama, Ethan Suplee, June Diane Raphael, Melissa Leo.
HappyThankYouMorePlease (Director and Screenwriter: Josh Radnor) — Six New Yorkers negotiate love, friendship, and gratitude at a time when they're too old to be precocious and not ready to be adults. Cast: Malin Akerman, Josh Radnor, Kate Mara, Zoe Kazan, Tony Hale, Pablo Schreiber, Michael Algieri.
Hesher (Director: Spencer Susser; Screenwriters: Spencer Susser and David Michod; Story by Brian Charles Frank) — A mysterious, anarchical trickster descends on the lives of a family struggling to deal with a painful loss. Cast: Joseph Gordon-Levitt, Natalie Portman, Rainn Wilson, Devin Brochu, Piper Laurie, John Carroll Lynch.
Holy Rollers (Director: Kevin Tyler Asch; Screenwriter: Antonio Macia) — A young Hasidic man, seduced by money, power and opportunity, becomes an international Ecstasy smuggler. Cast: Jesse Eisenberg, Justin Bartha, Danny A. Abeckaser, Ari Graynor, Jason Fuchs.
Howl (Directors and Screenwriters: Rob Epstein and Jeffrey Friedman) — A nonfiction drama about the young Allen Ginsberg finding his voice, the creation of his groundbreaking poem HOWL, and the landmark obscenity trial that followed. Cast: James Franco, David Strathairn, Jon Hamm, Mary-Louise Parker, Jeff Daniels.
The Imperialists are Still Alive! (Director and Screenwriter: Zeina Durra) — Juggling the sudden abduction of her childhood sweetheart as well as a blooming love affair, a French Manhattanite makes her way as an artist in an indifferent, sometimes hostile world. Cast: Élodie Bouchez, José María de Tavira, Karim Saleh Karolina Muller, Marianna Kulukundis, Rita Ackerman.
Lovers of Hate (Director and Screenwriter: Bryan Poyser) — The shaky reunion of estranged brothers takes a turn for the worse when the woman they both love chooses one over the other. Cast: Chris Doubek, Heather Kafka, Alex Karpovsky, Zach Green.
Night Catches Us (Director and Screenwriter: Tanya Hamilton) — In 1978, complex political and emotional forces are set in motion when a young man returns to the race-torn Philadelphia neighborhood where he came of age during the Black Power movement. Cast: Anthony Mackie, Kerry Washington, Jamie Hector, Wendell Pierce, Jamara Griffin