Medium Mark Anthony "the Psychic Lawyer," is the author of the best selling book, Never Letting Go: Heal Grief with Help from The Other Side.
Mark Anthony the "Psychic Lawyer," is a psychic medium who specializes in communication with spirits. He is descended from a long line of psychics and mediums that have been helping people with their abilities for centuries.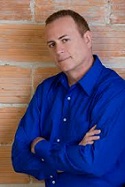 Mr. Anthony appears world wide on radio and television as an expert in spirit contact and the paranormal. An accomplished public orator, Mark regularly lectures on Life after Death and Contact with the Spirit World. He often serves as a featured speaker at universities, civic, religious, spiritual, and grief support groups.
Mark is a published author who has written several articles on both law and metaphysics. His best selling book "Never Letting Go," was released by Llewellyn Worldwide Publishing last October. This book is about healing grief with help from the Other Side.
Podcast: Play in new window