A spectacular automotive homage to Stonehenge was today put up for sale for a staggering $300,000 (£185,000).
'Carhenge' is a bizarre tribute to the prehistoric stone structure where the massive monoliths have been replaced by 38 classic American cars.
Constructed in rural Nebraska by U.S. sculptor Jim Reinders in 1987, it has identical dimensions to its British source of inspiration, measuring 96ft in diameter.
Carhenge attracts 100,000 visitors each year and is now owned by 'Friends Of Carhenge' who can no longer afford to run it.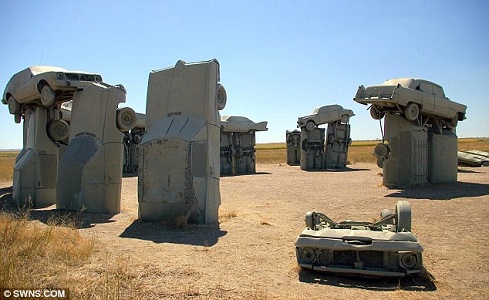 They are looking for an entrepreneur to pay $300,000 (£185,000) for the ten-acre plot with the intention of maximising Carhenge's potential.
All the vehicles have been spray-painted grey to give off the impression they are made of stone.
Some of the cars are held upright in pits 5ft-deep, while the vehicles which form arches have been welded in place.
The layout exactly mirrors how Stonehenge looks today, with pillars fallen down, and not as the original stone circle was laid out between 2500 and 2000BC.
The Friends Of Carhenge removed two Japanese built vehicles from the site in 1992 to make it all-American. The heel-stone is a 1962 Cadillac.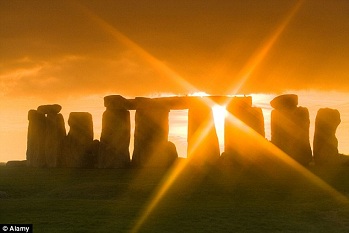 It is estimated the tourist attraction brings around £5million to the local economy each year from passing visitors.
The sale of what has been named America's second wackiest attraction, after a Texan toilet seat museum, is being managed by Wyoming estate agent Curt James.
He said: 'Carhenge's uniqueness, novelty and unusual components continue to draw the attention of film and television production crews as well as over 80,000 tourists from all over the world.
'As the second most popular tourist site in Nebraska, Carhenge provides a tremendous ownership opportunity for entrepreneurs.'